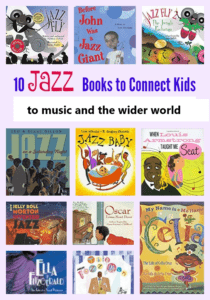 (This thematic round-up first appeared as a guest post on www.pragmaticmom.com) 
Hop. Boom. Skiddily-bop. Bing!  Let's start the new school year in rhythm, shall we, with 10 books that connect kids to this music we call jazz. The jazz picture book genre has evolved! By now, music loving parents and teachers can use jazz picture books to link to social studies, history, art and language arts. By doing so, we help all Americans better understand the music and one another. 
Jazz books for kids seem to fall into two categories: child-friendly biographies of famous musicians, and playful fiction using jazz as a major theme. Both portray the sounds, moods, and culture of the music. Real people populate the pages of the first category; anthropomorphic animals tend to fill up the second. Both help children connect with the wide-ranging emotions that first gave rise to the music. 
Below, drawing mostly from the first category (picture book jazz biographies), I'll describe ten of my favorite jazz picture books for connecting kids to the music.
 Django: World's Greatest Jazz Guitarist by Bonnie Christensen
An evocative portrayal of the "Gypsy Genius" Django Reinhardt whose childhood in Europe did not include school. Born into a musical Roma family, he suffered a crippling injury to his left hand—then defied all expectations and shared his gifts with the world. [picture book, ages 5 and up]
 Before John was a Jazz Giant: A Song of John Coltrane by Carol Boston Weatherform, illustrated by Sean Qualls
Written as a poem, or church hymn, the text emphasizes the sounds young John heard growing up: the sounds of grandma stirring hambones in a pot, father's ukulele, grandpa's church sermons, mother's piano accompaniment. The author's note for older readers mentions some of the harsher factors shaping the life of this visionary musician. [picture book, ages 5 and up]
My Name is (Me llamo) Celia by Monica Brown, illustrated by Rafael Lopez
Let's acknowledge for a moment salsa's Latin jazz roots. This book feels as exuberant, colorful and rhythmic as the salsa singer Celia Cruz's on-stage persona. Bilingual narrative wholly appropriate for a picture book covering "The Queen's" Cuban roots and her forced emigration to Miami and New York. ¡Azúcar! [picture book, ages 5 and up]
Oscar Lives Next Door, a Story Inspired by Oscar Peterson's Childhood by Bonnie Farmer, illustrated by Marie Lafrance
Sensitive prose and artwork follow the friendship of a girl named Millie and Oscar, one of five brothers and sisters who practiced music next door. Oscar began as a trumpet player! But tuberculosis harmed his lungs to the point that he had to re-channel his musical passion to the piano, and he eventually became a world-renown virtuoso. [picture book, ages 4 and up]
Ella Fitzgerald: The Tale of a Vocal Virtuosa by Andrea Davis Pinkney, illustrated by Brian Pinkney
Told from the perspective of a cool "scat cat," this book also traces a performer's change of trajectory. As an orphaned teenager, the future "First Lady of Song" aspired to dance professionally, not sing! Girls wondering why women aren't better represented in jazz should take heart both in Ella's talent and life story. [picture book, ages 5 and up]
How Jelly Roll Morton Invented Jazz by Jonah Winter, illustrated by Keith Mallett
Jazz scholars dispute (and the author acknowledges) that maybe this larger than life jazz pioneer wasn't really the "inventor of jazz." What's not disputed is that he was an immensely talented pianist and composer who spread the new sounds of New Orleans far and wide. [picture book, ages 5 and up]
When Louis Armstrong Taught Me Scat by Muriel Harris Weinstein, illustrated by Gregory Christie
This book serves as a rousing introduction to the iconic trumpeter and ambassador of jazz. "Can we scat about bubblegum?" a young girl asks in her dream. "Sure," says Mr. Armstrong, playing the muse, "bubblegum's hip." And they're off: "Oooba-lee-cooo, Oooba-lee-cat. Bubble me a bubble, an' bubble it FAT…" Whimsical, free-flowing artwork matches the text. [picture book, ages 5 and up]
Jazz Baby by Lisa Wheeler, illustrated by R. Gregory Christie
This catchy read-aloud portrays a happy baby whose soulful family showers him with love—and an endless opportunity to snap, tap, scat and swing to the music they provide at home. [picture book, ages 4 and up]
This Jazz Man by Karen Ehrhardt, illustrated by R.G. Roth
This swinging make-over of "This Old Man" introduces the roles of nine jazz legends amid gorgeous illustrations and plenty of onomatopoeia. Jazz buffs will recognize iconic performers such as trumpeter Dizzy Gillespie and tap extraordinaire Bill Robinson ("Mr. Bojangles") For an inspired narration, check out children's singer Miss Nina's rendition on Youtube. [picture book, ages 4 and up]
Jazz on a Saturday Night by Leo and Diane Dillon
This book also portrays real jazz giants (Charlie Parker, Thelonius Monk, Max Roach, etc.) gathered in a fictitious nightclub setting. The authors explain that the eight musicians assembled never actually shared the stage. The informative "bonus" CD describes to young listeners how their instruments are played—and how each one sounds alone and together. [picture book, ages 4 and up]