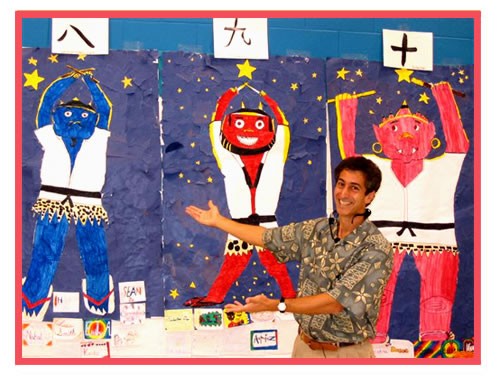 School Assemblies:
"Many of the teachers commented on how wonderful your presentations were: 'The best we ever had!' As you know, we have had many authors and illustrators visit our schools, and your presentations are the best!" 
—Barbara Bundy, Librarian, Foot of Ten School and Charles Longer School, Hollidaysburg, PA
"It was a wonderful two days and our students are still excited! They absolutely loved your presentations and your books are the most requested."
—Martha Rowland, District Librarian, Sacramento City Unified School District, CA
Encourage literacy. Enrich curriculum. Consider bringing this author to your school! Matthew has a gift for connecting with students, from Gifted and Talented to Limited English Proficiency. His author assemblies celebrate language arts, rhythm and respect for foreign cultures. He brings drums and performs renditions of his acclaimed books in English, Spanish, Japanese, and jazz! At the same time, he inspires students to read and write for pleasure–and spend less time on TV and videogames. Matthew is primarily a picture book author, but even upper grade students love what he has to share; as a percussionist, parent and award-winning publisher, he engages audiences on multiple levels. Matthew gives tailored, age-appropriate talks and regularly presents to grades pre-k through 8. For full-day visits, in addition to assemblies, Matthew can also provide 1-2 creative writing workshops for students. (For more information click STUDENT WORKSHOPS.)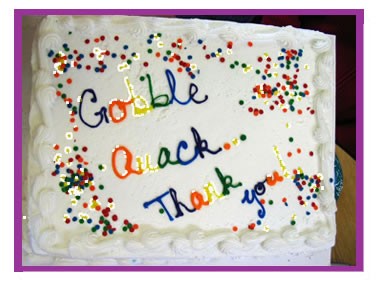 A "thank you cake" served at luncheon with staff:
What goes on in Matthew's author assemblies? Drum rolls herald thunderstorms as Uncle Snake lights up the sky. A Jazz Fly swings to rhythm and rhyme. Percussion, slides, and a mix of English, Spanish, and Japanese capture young imaginations. Students walk away with a deeper appreciation for diversity and an energized desire to read and write books. Please email Matthew for availability and fees, or call him toll free at (866) 4 TORTUGA. Never put together an author event? Even if you are not experienced, Matthew's guidance, staff, and comprehensive prep packet will help you pull off your event like a pro.
Says Matthew Gollub:
"Over the years, I've visited over a thousand schools and would welcome the opportunity to visit yours. My books feature multicultural themes which I amplify with a big dose of fun, combining language arts, drama, social studies and music. Having lived in other countries and struggled to learn other languages, I take care to communicate with listeners at all levels of English proficiency. As students participate with movements and sounds, my assemblies take on a life of their own. As students cook up plots in my creative writing workshops, they discover that they too have what it takes to write a story.
"For a full-day visit, please schedule a maximum of four 45-minute blocks. A block may consist of an author assembly (usually up to 250 students), a creative writing workshop (up to 30 students or fewer), a creative writing seminar (up to100 students), or one or two mini-presentations for kindergarten (for several classes apiece). For planning purposes, please think of my presentations as DYNAMIC, HIGH ENERGY PERFORMANCES, not a typical author "talk." That's why my assemblies can accommodate such large audiences. Because I put so much energy into my assemblies, I ask that schools observe the limit of four presentations for a full-day visit. I may be available for half-day visits of two 45-minute blocks, but only if the school is local to Sonoma County, California or if I'm speaking at more than one event in the area. Have questions? Just ask, and I'll help you plan!"
School Assembly Details:
Please contact to inquire about availability and fees, and allow for travel, meal and lodging expenses when applicable. "Piggy-backing" events (scheduling events at nearby locations on consecutive dates or even on the same day) can save time and money for everyone involved. Check Matthew's calendar to see when he might be nearby. For your school to get the greatest return on this investment, students, faculty, and even parents should be prepared for the event. Be sure to receive Matthew's preparation packet and at least one library set of his books well in advance of the speaking date.
Books:
Matthew's books are available through normal sales channels, and he generally can provide books through his company Tortuga Press. His staff sends the school beautiful four-color order forms–including bilingual order forms (English and Spanish) depending on the needs of the school. Studies show that students read more when they have more books at home, so Matthew discounts books to keep them affordable and allows time to sign books for individual students and teachers. Matthew's book sale system makes life easy for schools! Checks are typically made payable to him, not the school. He coordinates the delivery of the books from different publishers and takes left over stock with him to spare schools the trouble of returns. The schools just deliver his order forms at least once before the speaking date and collect the completed order forms (with payments attached) on the date of event.
Matthew's company also provides books and literacy materials at bulk discounts to schools wishing to distribute such items to families "for free." Ask about bulk discounts, and Matthew or his assistant will email back with quotes.
Matthew should be contacted directly regarding availability and fees. Contact Matthew here or call toll free at phone number: (707) 544-4720.