Treat your library community to rhythmic, jazzy and DYNAMIC storytelling! Matthew plays drums, enlists volunteers and shares insights about his award-winning books–all while sharing the four languages that he speaks: English, Spanish, Japanese and jazz! He also includes fabulous tips how to raise lifetime readers (place books, not electronic media, in the child's bedroom, put on the subtitles when watching movies when school aged children, etc.)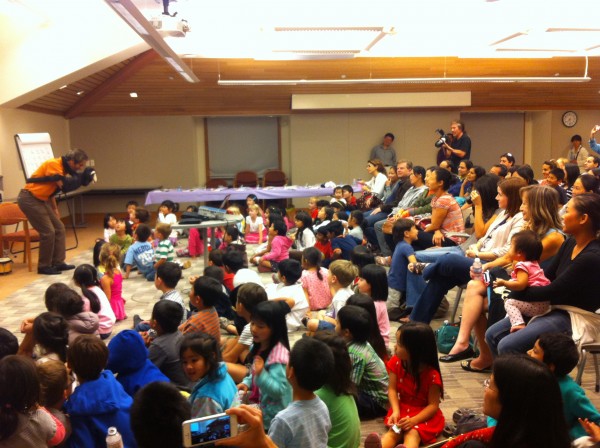 Matthew specializes in audiences of ages 4-12, but younger children also are drawn to his drums and percussion. He has performed at countless libraries and at over 1,000 elementary schools. He provides promotional materials including posters to help publicize library events.
Matthew's most popular books include The Jazz Fly series, three books with audio which feature his musical narrations. His book set in Mexico, such as The Moon Was at a Fiesta. make him a natural for Día de los niños (April 30th) and Cinco de mayo. His parenting book, Give the Gift! 10 Fulfilling Ways to Raise a Lifetime Reader contains a wealth of advice on everything from daily reading customs to limiting children's time on video games! Matthew's Asian-themed books (Ten Oni Drummers and Cool Melons—Turn to Frogs!)  make him a special draw to more communities still.
His typical library program runs 40-45 minutes followed by book signing. Matthew welcomes the opportunity to tour a number of libraries when traveling far home his home in northern California. If you wish to schedule a single event, and your location is outside of California's Bay Area, it's best to piggy-back a program onto an existing tour. His speaking calendar may show when he will be in your area. For more details, fees and availability, please email Matthew at mg@matthewgollub.com.
*