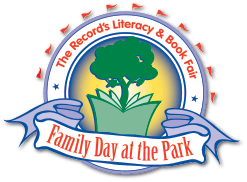 This interview (not pic) of yours truly just ran in the Stockton Record newspaper: http://lnkd.in/bpeW239 .
Hats off to Carrie Sass and all the organizers of Stockton's Family Day in the Park. Each September, this event highlighting literacy and family education attracts 20,000 plus people. It features marching bands, high school jazz bands, various stages and booths, and, naturally authors.
I just participated for around the 5th or 6th year. Go, Stockton!
Looking to the future for Family Day's 17th year, we're already hammering down the details for another exciting event. Mark your calendars for September 20th 2014, and stay tuned for more details!