Beginning, middle and end. (El principio, el desarrollo y el final.) True confession: I'm an improviser. (The Jazz Fly series is partially autobiographical!) But I really do benefit by keeping story structure in mind. Basic story structure is especially useful in the context of early literacy, i.e. creating stories with young children.
Last summer, I brought my Brooklyn-raised mother to visit my artist sister who lives in Oaxaca, Mexico. (Pictures on my FB page.) Travels to Mexico City, San Miguel de Allende and Guanajuato fueled more writing—and inspired last week's Spanish-language workshop about creating simple stories with young children.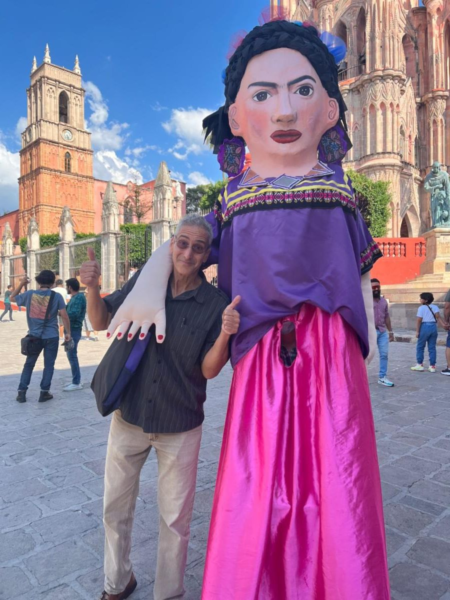 The key for participants was—you guessed it—story structure: el principio, el desarrollo y el final. The beginning reveals the story's setting and character(s), the middle some sort of development or problem, and the end a resolution—often unexpected. Here are some other takeaways from the workshop:
Both make-believe (fiction) and real life (non-fiction) scenarios work! By gently asking the child questions, like "who, what, when, where, why and how?" ("¿quién, qué, cuándo, dónde, por qué y cómo?"), we can usually draw more than enough details out of the little "writers." Then we just help them select what to keep.
Sometimes kids prefer to start with a picture, not words. As long as we write the words down for them, we can help even 2-year olds record their stories on paper, cardboard, even fallen leaves!
And the happiest ending is seeing children's joy in sharing their creations with parents and friends.
Here is a sample of this basic story structure from my Spanish-language writing workshop for childcare providers mentioned above. It highlights the beginning, middle and end in yellow, blue and pink. Title: "Lucía and the Cake". Story: "One day, Lucía saw Hector crying in the play area. 'Why are you crying?' she asked. 'Because I dropped my cake.' Lucía went to get him another slice of the creamy dessert. And that was how she got Hector to smile and not cry."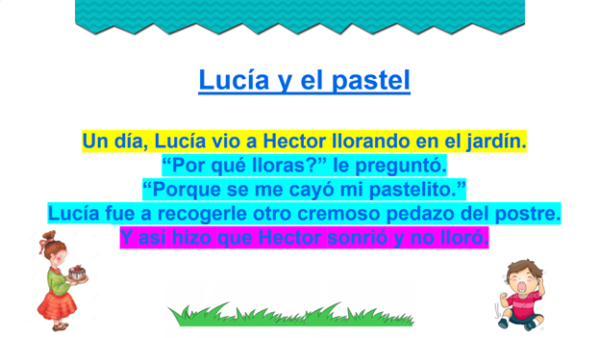 Looking forward to another year of virtual and in-person speaking events! To inquire about dynamic, multil-language author assemblies for Pre-K — 6th and lively, bilingual family reading nights for your school or library, just drop me a line at mg@matthewgollub.com.
Attention TEXAS educators: I am delighted to join forces with Authors and More for school and library events in the Lone Star state! So if you are with a Texas school or library looking to book an event, please email owner Carole Weitzel for details.
Here's wishing you a fulfilling new school year—beginning, middle and end!
–Matthew